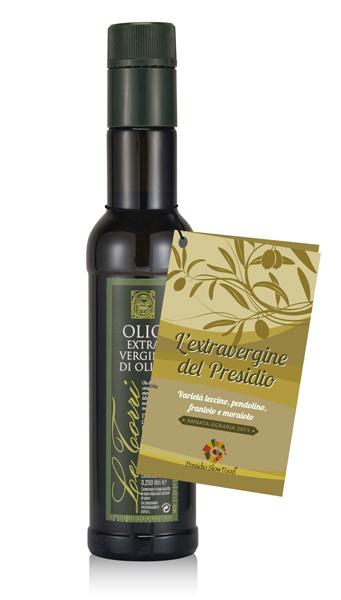 The varieties are: Leccino (60%) Pendolino (20%), Frantoio (15%), Moraiolo (5%) and 3 not identified. The olive grove is are located in an area about 300 meters above sea level.

Leccino with its notes of fresh grass balanced oils, the pendolino gives it complexity, the frantoio provides intense aromas, while the moraiolo confers structure with bitter and spicy notes

The soil is fertilized with organic fertilizers. The weeds and the remnants of pruning are shredded and left the pitch to enrich the soil organic matter and reduce water loss from the soil Irrigation is not practiced. For the control of pests and diseases is used products allowed in organic farming

The Olive harvesting is decided based on the results of the analysis of sugars, polyphenols and oleic acid of the fruit

The harvest is manual and rakes which cause the olives fall on nets stretched out on the ground. Immediately after they are harvested by hand placed in perforated plastic crates and transported to the mill. The 2016, olives harvested took place in late October to mid-November
The processing is done within 8 hours of collection in the mill in a continuous cycle of Chianti Classico of Tavarnelle Val di Pesa, about four kilometers from the olive grove
The washed olives are pressed, and the dough is kneaded and passed into the decanter. Follow the action of the centrifugal separator and oil filtration.
The oil is stored in containers of stainless steel in the business warehouse and is bottled in dark glass Vintage 2016-20017 were about 1 hectoliter produced