VINEYARDS
The vineyards cover an area of 28 ha, which is particularly suitable for grapes growing due to its climate and altitude (300-350 metres above sea level).
The vines are laid out in a way that allows them to make the most of the sun and the good weather in general. The vineyards consist mainly of Sangiovese (of several different varieties), Cabernet Sauvignon, Merlot, Syrah, Canaiolo, Colorino, Chardonnay, and Trebbiano Toscano, all of them in a number of varieties.
The plants are laid out diametrically up to 6,250 plants per ha. Our cultivation methods, totally respect our main objective: the quality of the grapes. It means short pruning and well-balanced fertilisation; some leaves are removed, so that more air and sunshine can reach through to the bunches of grapes.




OLIVE-GROVES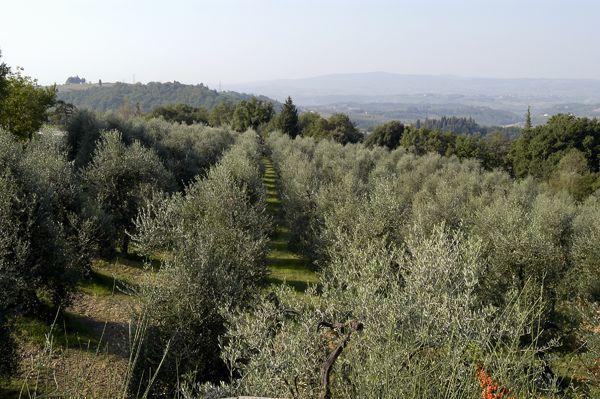 When we want to obtain an extra virgin olive oil of the highest quality, there are many factors, both productive and environmental, that have to be taken into consideration.
The first things are the climate and the quality of the land where we're going to plant the different varieties of olive trees, that are Frantoio, Moraiolo, Leccino. The climate in the area around the Chianti hills is perfect for olive growing; the soil is of mixed composition. We believe that the health of the olives and the attention to the trees are fundamental in oil production, beginning from the harvest. The olives are hand picked at the right level of ripeness (some black, while others still green which gives the final product an harmonious and well-balanced aroma) using combing devices and other tools, that let the olives fall down on a special cloth laid out on the ground.
The olives, while still in perfect condition, are then taken to the farm's own mill, and are pressed by the next day at the latest. Our ancient oil mill is very traditional; it works with traditional grindstones and presses, and without any use of heat in the extraction process.
The olive paste is never heated, and the separation of oil and water is achieved instead through a separator that makes use of the difference in weight and density between the two substances.
If filtration is required, the oil is simply poured through some cotton cloth.
If you want to maintain the quality of the oil, remember to store it in a cool and dry place, away from sources of heat.